Additional Documents: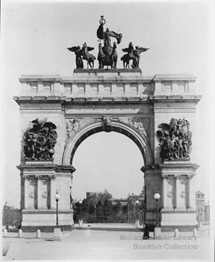 Soldiers' and Sailors' Memorial Arch
Grand Army Plaza, Brooklyn
The Soldiers' and Sailors' Memorial Arch, a Civil War memorial designed by John H. Duncan with sculptures by Frederick MacMonnies, stands at Grand Army Plaza in Brooklyn. The arch was built between 1889-92, commemorating Union forces that died in the Civil War. MacMonnies's huge quadriga sculpture on top was installed in 1898, and the two groups on the south pedestals representing the Army and Navy were added in 1901. The Brooklyn Daily Eagle reported on the arrival of the sculpture in this article: "Quadriga is here" (August 15, 1898).
The Grand Army of the Republic was a private veterans' association of former Union soldiers and sailors, founded in 1866. The organization disbanded in 1956, after the death of the last surviving Civil War veteran. This organization had a great deal of political influence at the end of the nineteenth century, and their creation of the Old Soldiers' Homes led to the development of the United States Department of Veterans Affairs. In 1868, the GAR called for May 30 to be designated a memorial day for Union veterans; this later evolved into the United States national holiday Memorial Day.
For a detailed view of the Union Army sculpture, see Document 102.
For more about the Grand Army of the Republic, see the Grand Army of the Republic Museum and Library (http://garmuslib.org/).
Citation - Document 101
Photographs: Irving I. Underhill, Neg. no. 1186
1901
Brooklyn Public Library – Brooklyn Collection
www.brooklynpubliclibrary.org/civilwar