Additional Documents: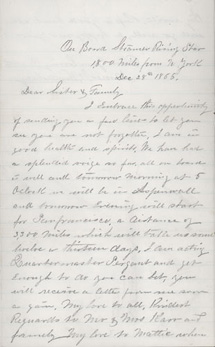 Letter by James W. Vanderhoef, December 28, 1866
Transcription of letter written by James W. Vanderhoef, from Williamsburgh, Brooklyn, who fought in the Union Army from 1861 through 1865. Please note spelling variations and errors are his.
"On board Steamer Rising Star
1,800 miles from N York
Dec 28th 1866
Dear Sister & Family
I embrace this opportunity of sending you a few lines to let you see you are not fogotten. I am in good health and spirits. We have had a splendid voige so far. all on board is well and tomorrow morning at 6 oclock we will be in Aspenwall and tomorrow evening will start for San fransisco, a distance of 3,300 miles which will take us some twelve or thirteen days. I am acting Quartermaster Sergant and get enough to do you can bet. you will receive letters from me soon again. My love to all. Kindest reuards to Mr & Mrs Karr and family My love to Mattie when they write. Keep a good heart all will go well, a happy new year to you all.
From your loveing Brother
James W. Vanderhoef"
Citation - Document 90
Letters of Captain James W. Vanderhoef
December 28, 1866
Brooklyn Public Library – Brooklyn Collection
www.brooklynpubliclibrary.org/civilwar