Additional Documents: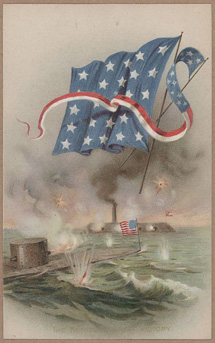 "The Monitor's Great Victory"
This postcard illustrates the first naval battle between two ironclads, the U.S.S. Monitor and the C.S.S. Virginia (formerly the Merrimack) at Hampton Roads, Virginia, on March 9, 1862. The Monitor (left) sailed into Chesapeake Bay from Brooklyn to protect the Union fleet, which was fiercely attacked by the Virginia the day before. During that day of destruction, the Virginia sank two wooden Union frigates and ran three others aground, while sustaining no damage itself. When the Monitor arrived, the two ironclads faced off for several hours, shooting their cannons at each other at very close range. The Monitor had the advantage of greater maneuverability because of its smaller size. However, neither ship was able to inflict significant damage on the other. Eventually, the ships sailed away from each other, with both sides claiming victory. Ironclad ships were a technological innovation that clearly spelled the end of wooden fleets.
The caption on this postcard reads, "The Monitor's Great Victory." It was probably printed in the late 1900s to commemorate the battle. The patriotic flags above the battle and the prominence of the Monitor in the painting emphasize the Union's victory in the war.
For more about the Monitor, see Documents 34, 35, and 37.
Citation - Document 36
March 9, 1862
Courtesy of Tom and Angela Sarro
www.brooklynpubliclibrary.org/civilwar