Additional Documents: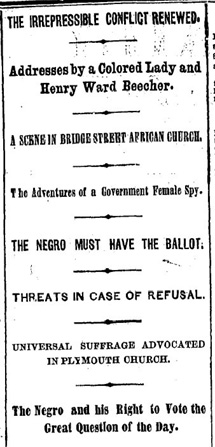 "The Irrepressible Conflict Renewed."
Brooklyn Daily Eagle
The many headlines in this article from the Brooklyn Daily Eagle demonstrate some of the important issues in the immediate post-war period. The first part of the article describes a speech given by an African-American woman who worked as a Union spy during the war. The second part describes the speech by the Reverend Henry Ward Beecher of Plymouth Church, in which he argues for the right to vote for African-Americans and for women.
The right to vote was a crucial civil right for African-Americans. Even though slaves had been freed by the Emancipation Proclamation, and by the Thirteenth Amendment to the United States Constitution passed on January 31, 1865, and ratified December 6, 1865, the right to vote was a separate issue. Activists spoke out in public forums and in the press, arguing for the ballot. On February 3, 1870, the Fifteenth Amendment was ratified, which guaranteed citizens the right to vote regardless of race, color, or previous condition of slavery. Although this gave African-American men the ballot (women did not receive the right to vote until 1920), racial prejudice continued through the end of the 19th and 20th centuries. The Civil Rights movement of the 1950s led to the Voting Rights Act of 1965, which finally guaranteed the right to vote for African-Americans in all states.
Read the entire article: "The Irrepressible Conflict Renewed" (September 25, 1865).
Citation - Document 84
Brooklyn Daily Eagle Online
September 25, 1865
Brooklyn Public Library – Brooklyn Collection
www.brooklynpubliclibrary.org/civilwar