Additional Documents: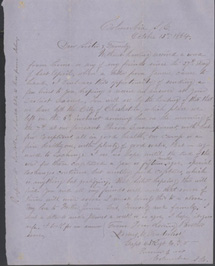 Letter by James W. Vanderhoef, October 13, 1864
Transcription of letter written by James W. Vanderhoef, from Williamsburgh, Brooklyn, who fought in the Union Army from 1861 through 1865. Please note spelling variations and errors are his.
"October 13th 1864
Dear Sister and Family
Without having received a word from home or any of my friends since the 27th Day of last April, when a letter from Jennie came to hand, I embrace this oppertunity of sending a few lines to you, hoping to receive an answer at your earliest leasure. You will see by the heading of this that we have left the city of Charleston which place we have left on the 6th instant arriving here on the morning of the 7th at our presant Prison Encampment with but few exceptions all in good health. Our camp is a fine healthy one with plenty of good water. But in reguard to exchange I see no hope until the end of the war for those captured a year or fifteen months agoe. special exchanges continue, but mostly fresh captures, which is anything but gratifying. But sister hopeing this will find you and all my friends well and that some of them will write soon. I must bring this to a close. My love to Mother, Jennie, Cad, Yourself and family. Sent a letter to Uncle James a week or so agoe. I hope it goes safe. I look for an answer
From your loveing Brother
James W. Vanderhoef
Capt. 45th Regt. N.Y.V.
Prisoner of War
Columbia S.C."
Citation - Document 75
Letters of Captain James W. Vanderhoef
October 13, 1864
Brooklyn Public Library – Brooklyn Collection
www.brooklynpubliclibrary.org/civilwar