Additional Documents: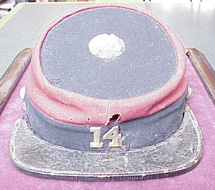 Brooklyn 14th Regiment Kepi
At the beginning of the Civil War uniforms for both the North and the South came in a wide variety of styles. Many regiments, such as Brooklyn's "Fighting Fourteenth," chose to wear a modification of the uniform of the Zouaves, the French army in North Africa. By 1862, the Union tried to standardize soldiers' uniforms. With all the variations of style, and similarities between the Confederates and the Union dress, it was sometimes difficult to tell who was friend and who was foe.
Union Army uniforms consisted of a dark blue jacket and pants with a stripe down the side. The color of the stripe indicated the branch of service: yellow for cavalry, red for artillery and blue for infantry. Soldiers wore a hat called a "kepi," French in style, that had a short flat crown and a leather visor. The hat in this photograph is similar to this and belonged to a soldier in the Fourteenth Regiment. The Confederates chose a style similar to the Union's, but in a dark gray color. The two armies will be forever remembered as "the Blue and the Gray."
For more about the 14th Regiment, see Documents 42, 103, 104, and 108.
Citation - Document 55
ca. 1863
Courtesy of Tom and Angela Sarro
www.brooklynpubliclibrary.org/civilwar