Additional Documents: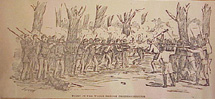 "Fight in the woods before Fredericksburg"
This drawing illustrates Civil War era military tactics. Although much more complicated than described here, the armies were organized into formations of line, column, line and column and square. As shown in the drawing, the line was the basic formation for attack and defense. Soldiers, standing side by side, would alternately load and shoot. This tactic compensated for the limitations of the standard infantry smoothbore muskets available at the time. The attacking army could come within the killing range of the defending army, exchange volleys, and if enough of the attackers survived the volley, they would complete the attack with a bayonet charge. Often, the defending army would flee to avoid the bayonet charge. Although not commonly used in the Civil War, especially in the first years, the development of the minie ball allowed the rifled musket to be loaded and fired as quickly as the smoothbore but with much greater range and accuracy. After the disastrous Union loss at Fredericksburg, the Army began to rely on entrenchments, where trenches were constructed to provide protection, as well as to help hold positions they had won.
Citation - Document 43
Civil War Scrapbook, V. 4
December 1862
Brooklyn Public Library – Brooklyn Collection
www.brooklynpubliclibrary.org/civilwar