Additional Documents: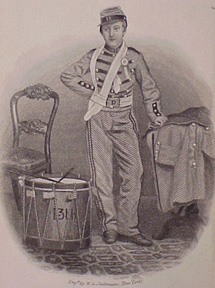 Clarence D. McKenzie
Drummer Boy
Children in the Civil War era wanted very much to be part of the excitement of the war. They could assist their mothers in preparing bandages; they could write letters to their friends and family members fighting in the war; boys could join the army as drummer boys or as fifers. This is what Brooklyn born Clarence McKenzie did at the age of 12. He joined the Thirteenth Regiment, New York State Militia as a drummer boy. Soon after arriving in Annapolis, in June 1861, he lost his life when a musket accidentally discharged. A statue in his honor stands in Green-Wood Cemetery in Brooklyn.
Read the news from the Brooklyn Daily Eagle: "War Intelligence, The Death of Young McKenzie" (June 13, 1861).
For images of the monument see Documents 27 and 28. For more about drummer boys, see Documents 60 and 104.
Citation - Document 26
The Little Drummer Boy
July 1861
Brooklyn Public Library – Brooklyn Collection
www.brooklynpubliclibrary.org/civilwar