Additional Documents: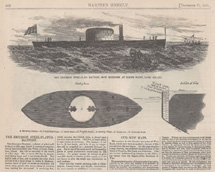 Construction of the Monitor
Brooklyn's waterfront grew from a small number of ferry docks that served early industry to a six-mile long basin that could dock over 100 ships. The waterfront and industry grew together: from the Atlantic Docks and the Erie Basin in Red Hook where bulk goods were received and stored in huge warehouses to the docks and factories of Williamsburgh and Greenpoint where sugar refineries, glass manufacturers, rope factories, distilleries and shipbuilding were found. The Civil War had great impact on the growth of shipyards in Greenpoint. Not only did they construct and repair merchant and passenger ships; they also built battle ships.
One of the most famous of the shipyards was Continental Iron Works, which built the ironclad gunship, the Monitor, in 1862. The designs of Swedish-born engineer, John Ericsson, are shown in this Harper's Weekly illustration. The U.S.S. Monitor went on to battle the Southern ironclad, the C.S.S. Virginia (formerly the Merrimack), which threatened the Union's wooden navy.
For more about the Monitor, see Documents 35, 36, and 37.
Citation - Document 34
Harper's Weekly
December 21, 1861
Courtesy of Tom and Angela Sarro
www.brooklynpubliclibrary.org/civilwar